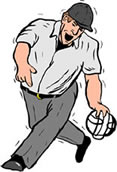 Umpire Expectations
Be in good physical condition prior to your first assignment.
You are in charge once you walk on the field. Take Charge.
Be calm, professional, tactful, firm, fair, impartial, and in Control.
Don't be timid, intimidated, confrontational or overly aggressive.
Possess a positive attitude toward coaches, players and your crew.
Do not insist on the last word and be in control of your emotions.
Assist in the interpretations of rules, enforce the spirit and intent of them.
You must be able to sort out complex situations and make decisive choices
If discussions are reasonable be a good listener, if not be assertive.
Do not initiate arguments or be perceived as escalating the situations.
Avoid sarcastic remarks, impatience, condescending attitude and profanity
Never ignore reasonable requests or occurrences that require attention.
Appearance, mobility, hustle and focus are crucial elements in your games
Your philosophy should be to get every call and ruling on the field right.
Fraternization with Coaches and Players will not be tolerated.
Work every game with the utmost intensity and concentration.
Umpires will seek every opportunity to improve rules/game knowledge.
No alcohol or tobacco products allowed on premises/including lockers.
Contact partner 48 hours prior to contest to confirm site, time and uniform
Accept responsibility for inappropriate behavior on and off the field.
Do not point finger, poke, spray, spit, kick, beek, bump,or cuss at any coach.
Any violations of policy will result in fine and/or termination of contract
All ejections and/or suspensions are to be reported immediately to Ruben
Do not hesitate to make unpopular decisions, this is part of umpiring.
Uniforms, Hats and Equipment will be kept clean and updated by umpire.
Stay above the emotional fray. They never remember when you are right.
They will never forget when you are wrong. You must walk a fine line.